When to Call / Come to Hospital
A perinatal registered nurse will be assigned to care for you throughout your labour. Your maternity health care provider (doctor and/or midwife) will see you at various times during your stay and will be present during the birth.

We advise you to speak with your doctor/midwife if any of the following occurs at any point in your pregnancy:
You have painful contractions coming at regular intervals
Your water breaks, or you are not sure if your water has broken
You have bright red vaginal bleeding
You have unusual looking and/or foul-smelling vaginal discharge
You have a constant abdominal pain or tightness that does not go away
Your baby's movements are less than usual
You have flu-like symptoms and are not feeling well
You have uncontrolled nausea, vomiting and/or diarrhea
Any other concerns
If you think you are in labour or have any questions, please call your doctor or midwife ASAP. Please also call the Birth Centre at 604-244-5133 before coming to the hospital and speak with one of the nurses.
Please note: this video provides general information for Richmond Hospital Birth Centre. Please contact Birth Centre staff for the most up-to-date details.
What to Bring to the Hospital
You will need to provide a piece of photo ID, permanent address, and Personal Health Number (BC Care Card) to the admitting clerk. If your birthing care provider gave you some papers from their office, please bring these with you give to the nurses at the Birth Centre.

A standard stay in the hospital is 1-2 days for a vaginal delivery and 2-3 days for a Caesarean section delivery.

Plan to bring the following items with you: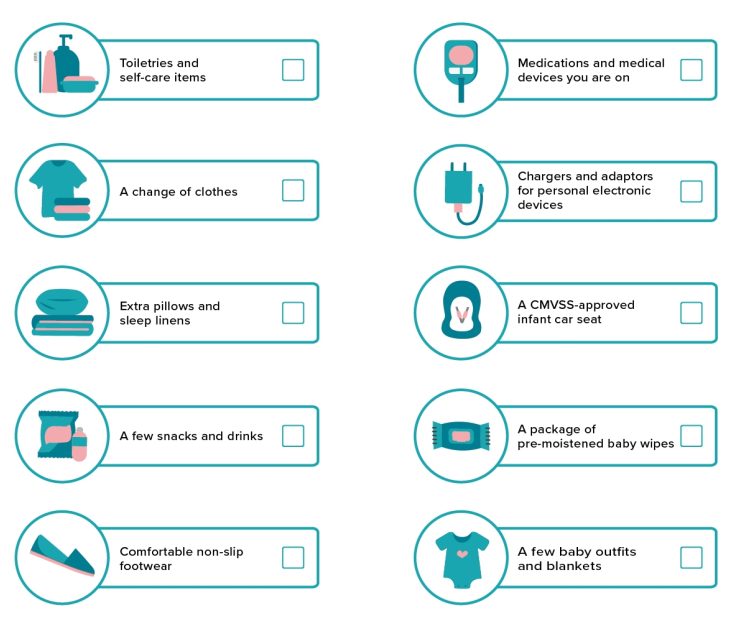 Labour Assessment Process
When it is time for you to come to the hospital, here's a brief overview of the process including:
Arriving at the hospital
Parking information

Information provided at the admitting desk
Assessment at the birth centre
Click through the graphic below to learn more about each step.
If You Are Sent Home in Early Labour
Depending on the nature of information provided on this assessment, you may be admitted to the Birth Centre or you may be encouraged to go home until you are further along in your labour.

Achieving a successful vaginal birth for your first baby sets the foundation for any future vaginal births, optimizing health and wellbeing for all.

In many cases, this means there is a good chance you will be sent home in early labour if you meet the following criteria:
are expecting to give birth for the first time
have a low-risk, healthy pregnancy
are pregnant with one baby (i.e. not twins)
are coping well with labour contractions
have adequate support at home,
have transportation to and from the hospital
have good lines of communication with the Birth Centre
you and your support people are comfortable with the overall plan
Birth Centre staff will arrange a time to offer a quick 'check-in' phone call while you are labouring at home, or schedule a time for one of you to call the unit back.

Call the Birth Centre and your healthcare provider (doctor or midwife) if any of the following occurs:

Your water breaks
You have bright red vaginal bleeding
You have a constant abdominal pain or tightness that does not go away
None of the comfort measures listed below relieves your labour pains
Your baby's movements are less than usual
You have other concerns
Comfort Measures in Early Labour
If deemed to be in the early stages of labour (also called "latent phase labour" or "false labour") we believe the best place for you and your family is in the comfort of your own home. Early labour is a normal part of labour and may last several hours.
If you are advised to stay home or are sent home from the hospital in early labour, we encourage you to relax and make yourself as comfortable at home.
Here are some suggestions to help minimize discomfort in early labour.
Minimize discomfort associated with cramping and contractions in early labour:

Rhythmic deep breathing ("in" for 2 seconds, "out" for 4 seconds)
Light activity, such as walking, standing, and sitting, often helps to relieve discomfort
Try resting in different positions to see what is most comfortable for you
A nap if you become tired
A warm shower or warm bath
Read a book, watch TV, or listen to music
Try some aromatherapy with a diffuser and essential oils
Eat a light, easily digested snack, such as toast
Drink plenty of fluids
Relieve backache:

Sit in a rocking chair
Sit, or lie on your side, with your knees drawn up towards your chest
Use a hot or cold pack on your back
Have your support person give you a back rub or massage
Avoid taking any medication during this time, unless advised to by your doctor/midwife
Syphilis Screening in Pregnancy
Beginning March 1st, 2023 all pregnant persons admitted to the Birth Centre will be offered bloodwork to check for a serious infection called syphilis. Syphilis infections can be passed on to babies during pregnancy or at the time of birth (congenital syphilis). Untreated syphilis can harm you and your baby.
First trimester syphilis screening is part of early pregnancy care. Adding a second screen around the time of your baby's birth enables the public health care system to track and treat the rise in congenital syphilis cases.
For more information about syphilis and pregnancy, speak with your maternity care provider. To read the PSBC patient resource, click here